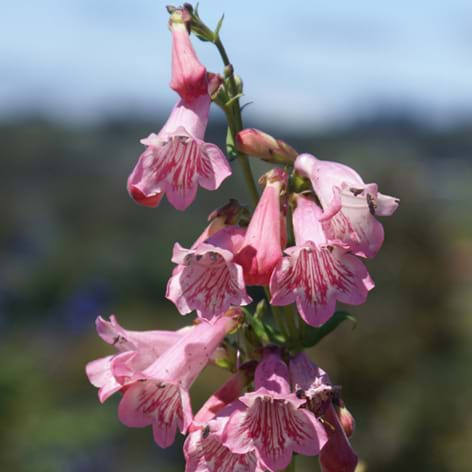 With their colourful tubular flowers on long spikes, penstemons are a favourite for adding bright pops of colour to herbaceous borders. However, with 250 species, all native to North America, you just know there's going to be diversity, and these delightful, summer-flowering perennials range from dwarf groundcovers to 1.5m tall shrubs, in all manner of shades and colours.
Penstemons are low maintenance plants suitable for rockeries, borders, woodland gardens and containers. They make wonderful cut-flowers.
CULTIVATION
Grow in full sun to part shade, knowing that in sunnier positions you'll be rewarded with more flowers.
Many penstemons prefer regular water, but desert varieties are commonly used in xeriscaping.
Water penstemons during the warm months if rainfall is low.
Soil
Most penstemons require a moist, well-drained soil, but alpine species prefer sandy soil.
Dig over clay or sandy soil and work in plenty of compost and/or well-rotted animal manure.
Plant in mounds if soil isn't well drained.
For container grown plants, use a premium potting mix.
Pruning
Deadhead regularly to encourage more blooms.
Cut plants back to 20cm after any risk of frost has passed.
Fertilising
Feed with a complete fertiliser each spring, and top with mulch to prevent weeds and retain soil moisture.
Apply Seasol and Powerfeed regularly to keep plants healthy and performing at their best.