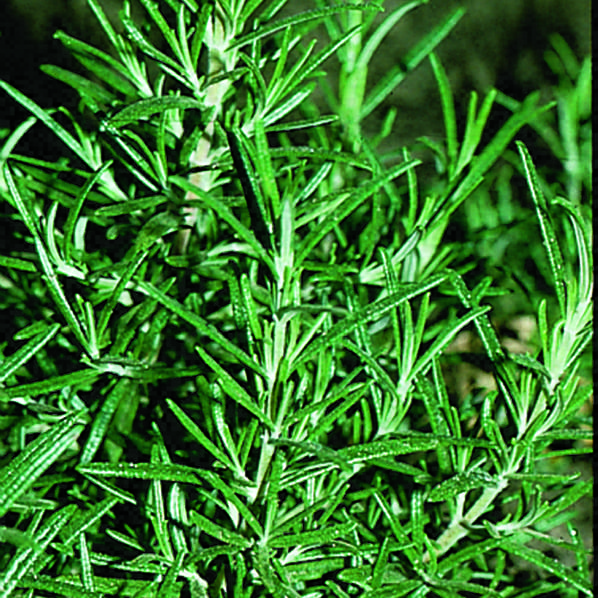 Rosemary is a woody, evergreen perennial with fragrant, needle-like leaves. Around the world it's one of the most common culinary herbs, but due to its habit is also used frequently in landscaping. It grows well in almost all parts of Australia.
The Latin name Rosmarinus means 'dew of the sea' and refers to the fragrance and flowers from the masses of plants that used to grow on the cliffs on the edge of sea.
With its square stems rosemary is quickly identified as a member of the Lamiaceae family, which includes mint, basil, sage, oregano and thyme, to name but a few! Just like lemon trees, no garden should be without rosemary!
There are a few species of rosemary, but it is Rosmarinus officianalis that is cultivated and whether you have a tall shrub or prostrate plant, one with pink, blue or white flowers, it will almost certainly be R.officinalis. There are four main types: tall and upright (Tuscan Blue, Miss Jessups Upright, Genge's Gold, Portugese Pink), low and spreading (Lagoon, Collingwood Ingram, Lockwood de Forest, Rosea, Wendy's White, Benenden Blue), prostrate (Santa Barbara, Huntingdon Carpet) and other species.
The upright forms tend to have large sticky leaves and a strong fragrance. The leaves strip easily and these plants make excellent hedges. They are often used for mazes. They are also popular for topiaries and as large pot plants for the verandah and courtyard. Spreading varieties are excellent landscape plants due to their tolerance of a wide variety conditions and low water requirements. The prostrate forms grow to around 20cm tall and will hug the ground, or cascade over rocks and walls making them good for terraced gardens and large pots.
While all rosemary cultivars are edible, each produces its own unique oil. Some are higher in camphor, with fragrance similar to pine, making them less palatable, but perfectly fine for landscaping with. Others such as 'Herb Cottage' and 'Gorizia' have more of the sweeter oils and are more suitable for the kitchen garden. The best part of the plant for cooking is the fresh young leaves, which can be used fresh or dry.
Rosemary flowers at a time when the delightful lipped flowers add sparkle to a dull winter garden. They start flowering in mid winter and flower through to early spring. Some plants will repeat flower in mid autumn. Colours range from deep blue (Tuscan Blue and Fota Blue), through light blue and silvery blue to pure white. There are also several pink forms that range from a soft mauve pink to the more solid pink of Portugese Pink. Each flower is attractive, but the mass display on a large planting is quite stunning. With some varieties there are more flowers than leaves.
CULTIVATION
Rosemary will grow successfully anywhere but where summer rainfall is high.
It's native to the Mediterranean and can withstand harsh summers.
Position plants in a warm spot in full sun with good air movement and excellent drainage.
Don't overwater during summer.
Soil
Rosemary evolved on highly calcareous soils and need an annual application of calcium to ensure optimum growth.
Rosemary requires good drainage. If your soil is poorly drained, plant in mounds.
For clay or sandy soil, dig through compost and/or well-rotted manure prior to planting.
Pruning
Tall and upright varieties can reach up to 1.8m tall and 75cm wide. As they get older they have a tendency to 'fall out' and should be pruned annually in late spring.
The spreading forms have a variety of shapes, but are mostly around 0.75 to 1.2m high and 1 to 1.2m wide. They also respond well to an annual prune.
Tip pruning non-prostrate varieties when young will encourage a dense, well-shaped plant.
Regular pruning will prevent plants becoming leggy, and also give you all the rosemary you need for the kitchen.
Taller shrubs can be pruned to make a stunning, compact hedge.
Fertilising
Rosemary isn't a big feeder, but in poor soils apply a complete fertiliser once a year.
Apply Seasol and Powerfeed regularly to keep plants healthy and performing at their best.