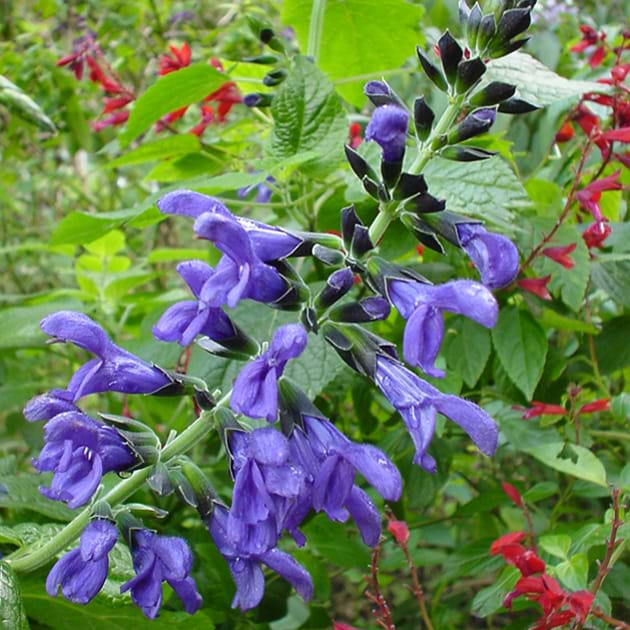 Salvia is a fabulous genus with over 900 species and numerous hybrids and cultivars. They've got a lot of things going for them, including their huge range of colours, long-flowering habit and drought-tolerance. Salvias make the perfect addition to a cottage garden, where they're coloured flower spires are appreciated by humans, birds, bees and other fauna.
Salvia is the largest genus of plants in the mint family (Lamiaceae). The name comes from the Latin word 'salvare' or 'to save'; referring to the plant's healing properties.
SALVIAS:
Are extremely easy to grow.
Come in many forms, sizes and colours so are versatile in the garden. There are annuals, herbaceous perennials and shrubs.
Colours include pink, red, white, orange, yellow, blue, green and black.
Flower prolifically attracting birds and bees.
Are native to many countries, so are suitable for various climates and conditions.
Are renowned for their hardiness and drought tolerance, but will also cope with heavy rain. Some, such as S. uliginosa will withstand boggy conditions.
Often tolerate frost.
Prefer full-sun to part-shade conditions.
Contain oils unappealing to rabbits - really!
Vary in height from 15cm to 3m.
CULTIVATION
Salvias look stunning planted en masse, but are attractive enough to use as stand-alone plants or in pots. Use them in mixed plantings with other perennials or grasses.
Always water-in newly planted salvias and water weekly until new roots have established in a few weeks.
Plants in the ground appreciate watering during dry spells. Those grown in pots require regular watering.
Most salvias prefer full-sun, but will do fine in dappled shade.
Protect from wind, using buildings, fences or other plants.
Mulch well.
Soil
Salvias thrive in most types of well-drained soil, acid to alkaline (within the ordinary range).
In sandy soil, dig in plenty of organic matter. This will need to be added at least a couple of times a year.
In heavy clay, dig over to a depth of 30-40cm and add gypsum.
Fertilising
In ground feed with organic, slow-release pellets; in pots use a controlled-release fertiliser.
Apply Seasol and Powerfeed regularly to keep plants healthy and performing at their best.
Pruning
All salvias benefit from pruning.
As a general rule for most plants, we prune after the main flowering flush, but some plants flower continuously throughout the year, or in a couple of main bursts. In this case, we just use common sense and prune when convenient, not in the extremes of summer or coming into winter when tender new shoots can be damaged by frost. This is relevant for salvias also.
Tip prune regularly when young to encourage a dense habit.
In warmer areas, or in protected microclimates such as the suburbs or close to buildings, many types of salvia can be pruned at any time of the year. In exposed locations or cold climates, prune them after the risk of frost has passed.
For the purposes of pruning (!) there are three main types of salvia, and understanding which is which will mean greater success.
These are deciduous herbaceous (eg S.elegans and S.patens), herbaceous with woody stems also called shrubby (eg S. leucantha, S.greggii and S.chamaedryoides, S.coccinea and S.microphylla), and rosette herbaceous (eg S.nemarosa, and S. x superb). There are also small herbaceous types such as S. koyamae 'Yamagata' that die back completely.
Deciduous herbaceous: Old growth eventually dies and new shoots appear from the base. In cool climates, prune in spring so the old growth protects the new shoots. When they've finished flowering cut the shoots off at ground level.
Herbaceous with woody stems: Prune back after flowering to where the foliage starts on the stem. Don't take these back to ground level. Thin the plant as required, removing dead stems.
Rosette herbaceous: Prune back to ground level.