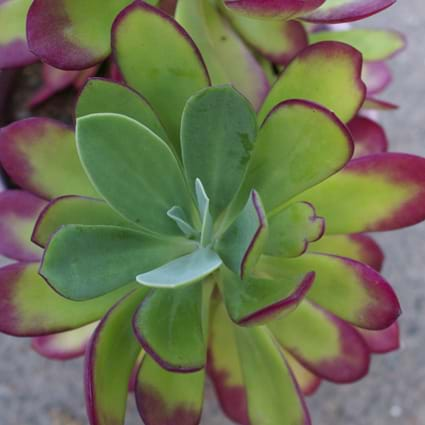 Succulents are popular to grow because they're easy to grow! They're colourful and sculptural, and work well planted en masse, as feature plants, in rockeries or as part of a mixed bed. They can be grown in the ground or in containers when they look fabulous clustered together on verandas, steps and in courtyards.
Succulents come in so many shapes, sizes and colours. There are groundcovers, climbers, scramblers, shrubs and even trees. Succulents are drought-resistant plants that store water in fleshy leaves, stems or roots. About 25 families contain succulent plants, including Cactaceae – or cactus! So how do you tell the difference between a succulent and a cactus? Not by the thorns, as many succulents have them, while some cacti don't! Confused much? It's actually quite easy to tell them apart, as thorns on cacti protrude from areoles, which are small, puffy white 'pads'.
If given the right conditions, succulents will thrive and give you pleasure for years.
Succulents:
Will thrive in the sunniest conditions and don't mind the wind but, like us, they dislike prolonged exposure to rain during winter. It's best to move pots to a dry protected spot if they're getting too much water, as they become vulnerable to frost damage.
Need extremely well-drained soil. If planting into poorly drained soil, create mounded beds for your plants. When planting into containers, use specialist succulent potting mix.
Need to be left dry for a week or so after repotting, as they can't abide wet roots after they've been disturbed.
Do better with inorganic mulch, (gravel, pebbles or sand) as these don't hold moisture, and plants will be less likely to suffer from fungal problems.
Need a sunny spot – a north facing area is ideal, especially in cool climates.
Cope very well with dry conditions, but those in pots need to be watered every week or so during the warm months.
Don't require much fertiliser; apply a small amount of slow-release fertiliser in spring. Applying Seasol regularly will help keep your plants in excellent condition.
Can be grown indoors as long as they're in a bright spot away from direct heating and cooling.
Will grow to the size of their pot, and growth can be controlled by applying water and fertiliser regularly during the growing season.